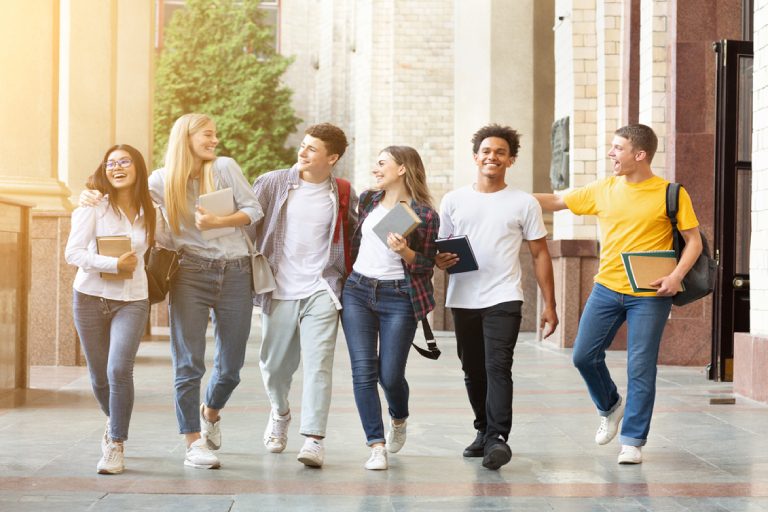 The essential shopping list of school supplies for Grades 9 – 12
Fall is around the corner and that can only mean one thing…It's back-to-school time! This time of the year can be stressful no matter how many times you've been through it, especially for those students entering high school for the first time. But Kleenex® is here to make your life a little easier with this handy high school supplies checklist to ensure you remember all the most important must-haves, so your kids can focus their attention on making the grade!
You can customize this high school shopping checklist based on your child's individual needs – from what they'll need to bring in their school bag, to technology and home supplies – ensuring they'll be prepared for success. The great thing about kids in high school is that they can help with the back-to-school shopping and can pack their own school backpack – one less thing for you to do!
What should be on your high school supply checklist?
Backpack Supplies
Backpack

A supportive backpack that has ample space and lots of pockets for all their school supplies is exactly what you're looking to buy. Some schools don't allow rolling backpacks, so check the rules before you consider that option.

Laptop

With online learning and digital group work happening more than ever, it's helpful for your child to have a laptop to stay connected with their teachers and classmates. Look for one with a long battery life, to get them through the school day or long study sessions without having to plug-in. A durable carrying case is recommended for extending the lifespan of the laptop, as well.

Kleenex® On-The-Go Pocket Tissue Packs

Make sure you kids have some softness and comfort within reach wherever they go. Our Kleenex® On-The-Go Tissue Packs, offering absorbent 3-ply care for face and hands, are great to keep in their backpack, locker, gym bag, car…pretty much anywhere!

Keys

As your teenagers gain a bit more responsibility and freedom, you may want to give them their own set of house keys so they can come and go as they need to.

Cell phone (optional, not a must-have)

Lunch Bag

Look for a well-insulated lunch bag that can keep lunches cold or hot. Make sure it has enough room to fit reusable containers comfortably. Remember to always pack school-friendly (usually peanut-free or nut-free) lunches and snacks.

Wallet/ID

A wallet will keep identity cards safe and secure, including of course, their student card and driver's license, as needed.

Reusable Water Bottle

A reusable water bottle will lower the number of trips to the water fountain and keep your child hydrated throughout the day – especially for after-school sports and gym class.

Healthy Snacks

Some quick healthy snacks will keep your kids fueled and ready for the whole day. Consider some crackers and cheese, grapes, cucumbers and carrots with dip, or pita chips and hummus.

Change of Clothes/Gym Shoes

If your child is in gym class or enrolled on any athletic team, you're going to want to make sure they have a spare change of clothes. Some schools may require that students have an indoor and outdoor set of sneakers.

Medications

These should always be stored in a safe and secure location. For medications that may need to be refrigerated or administered during school hours, be sure to let the teacher know in advance. If your child suffers from any allergies that may require medical attention or medication, inform your school administration and teachers, and provide an emergency contact.

Face covering/Mask

Depending on your local public health protocol and school board guidelines, pack a clean face covering or mask each day.

Pencil Case

For storing all your writing essentials, pencil cases come in all shapes and sizes. Let your high-schooler pick their own case to express their creativity and personality. Some have holes to easily attach inside a binder to keep everything in one place.
Organizational Supplies
Several Three-Ring Binders

A high-school essential for multiple subjects, pick-up at least two or three, 11/2" binders for 3-hole loose leaf paper. Look for ones with storage pockets on the side to keep loose papers secure.

Binder Dividers

Helps keep notes and assignments organized if your kids have multiple subjects in the same binder.

Three-Hole Punch

We recommend a small, lightweight one that can fit conveniently into their binder.
Stationary Supplies
Notebook/Planner

Important for writing down assignments, due dates and important reminders.

Lined, Loose-Leaf Paper

Another high school essential – pick up at least a few packages of lined, loose-leaf paper for submitting assignments or taking notes.

Graph Paper

For math, statistics and physics class, graph paper is required for plotting graphs of functions or data, and drawing curves.
Writing Supplies
Pencils and Pencil Sharpener

Especially required for math or art class, have a few standard #2 pencils or mechanical pencils on your back-to-school list. Opt for a manual pencil sharpener that has a container to catch the shavings for less mess.

Eraser

Everyone makes mistakes! That's what erasers are for.

Pens

We recommend getting a few ballpoint pens in classic blue and black, but also a few in other fun colours to make note-taking more interesting and for peer-grading assignments.

Ruler

Select one with metric measurements for Canadian classrooms. A versatile tool that is used in a number of different classes.

Highlighters

A helpful tool for studying and highlighting the most important information and passages. With several varieties available, choose from different colours, sparkles, glitter pens, and more!

Sticky Notes

Sticky notes are a great organizational tool to help your kids keep track of key reminders and assignments – and to mark important pages in textbooks.
Storage Supplies
Two combination locks

Some schools won't have built-in locks in which case your student will have to supply their own lock. Two is recommended so that they have one for their main locker and one for the gym.
Home Supplies
Kleenex® Facial Tissues

It's great to have a box of Kleenex® Trusted Care® facial tissues on your child's desk or workstation at home for whenever the moment calls for it. Our signature tissues that you know and love offer soft, strong and absorbent 2-ply care for wiping faces and hands. Parents can feel comforted knowing you have Canada's softest tissue* for everyday use on on-hand to help soothe a runny nose or clean hands whenever it's needed.

*among leading national brands

Printer/Printer Paper/Ink Cartridges

While many assignments can be submitted online, some teachers still require physical copies for grading. In that case, it's convenient to have a home printer so students can print their assignments ahead of time. Try using recycled paper for a more eco-friendly option!

Drawing Paper

If your child is taking any art classes, there's a good chance they will be required to do some paper and pencil drawing at the very least. Some drawing paper will suffice for simple assignments but if painting comes into the mix, then a higher quality art paper may be required.

Stapler

Our absolute favourite are mini-staplers, which can easily be brought between home and school for any last-minute stapling needs.

Scissors, Pencil Crayons, Glue Stick and Markers

Useful for a number of arts and crafts assignments.
Supplies for the Car
Snacks

Whether you're driving your kids to school, or they've started driving themselves, having some convenient on-the-go snacks and water will give them healthy options to keep their minds optimized for learning!

Kleenex® On-The-Go Tissue Packs

Having a good supply of Kleenex® On-The-Go Pocket Tissue Packs in the car is a convenient solution for wiping faces and hands or for a runny nose. Keep extra Kleenex® On-The-Go Pocket Tissue Packs handy in the glove box for when kids need a new pack to bring with them to school. Our Kleenex® Trusted Care® tissues offer softness and strong absorbency with 2-ply care for all your family's needs when on the go to and from school, after school activities or weekend errands. With Canada's softest everyday tissue*, you'll always have comfort in hand.

*among leading national brands

Hand sanitizer

It's important to always keep good hygiene practices! Germs spread frequently through schools so keep some hand sanitizer in the car to stop them in their tracks.
Back-to-school can be a stressful time, but if you're prepared, your kids will be set up for success. And even though they're getting older, with Kleenex® facial tissues, they'll always have the comfort of home in their pocket to help them through their day.
---