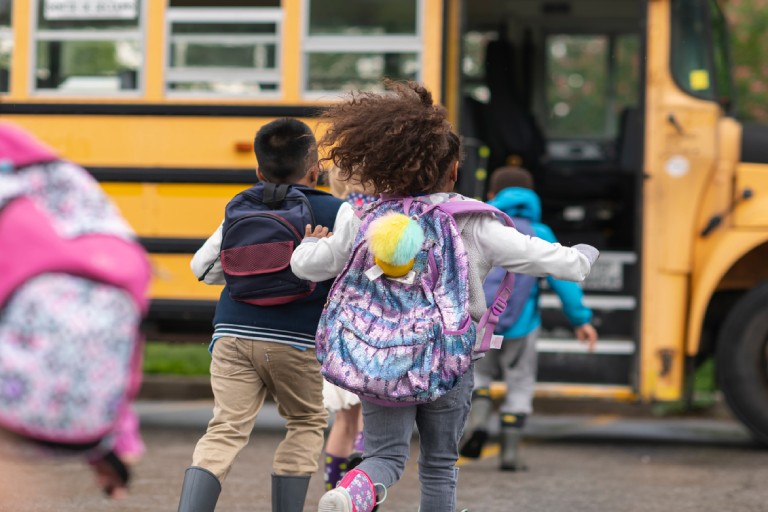 The essential shopping list of school supplies for Grades 1 – 8
Grab a tissue – we're approaching the end of summer. Fall will be showing its colours soon which means it's time to start thinking about everything back-to-school. But don't be worried! Kleenex® is here to help with our essential elementary and middle school supplies checklist. Back-to-school can be a stressful time of the year, but we'll make it easy for you to gather all the must-haves for your child to succeed in the classroom.
From what to have with you in the car for pick-up and drop off, to items to send with your kids to school and how to help them optimize their studies, read more for the ultimate back-to-school shopping checklist for elementary & middle schoolers.
What should be on your elementary or middle school supply checklist?
Supplies for the car
Kleenex® facial tissues

Kleenex® facial tissues are perfect to keep in your car for your school commute so that a touch of comfort and protection is always by your side. Our signature tissues that you know and love offer soft, strong and absorbent for wiping faces and hands. Parents can feel comforted knowing you have Canada's softest tissue* for everyday use on-hand to help soothe a runny nose or clean hands whenever it's needed. Keep extra Kleenex® On-The-Go Pocket Tissue Packs handy in the glove box for when kids need a new pack to bring with them to school.

Snacks

If you have trouble getting the kids to eat breakfast before leaving in the morning, having some healthy, portable snacks in the car might just do the trick. Pack school-friendly snacks for recess or after-school to set their tummies and minds up for success!

Hand sanitizer

It's no secret that school is a common place for germs to spread. Take precaution to keep your family safe and healthy by having them sanitize their hands every time you pick them up.
Backpack Supplies
Backpack

Depending on how old your child is will play a big role in the size of the backpack they'll need. A good rule of thumb is to get something that can store their lunch box, extra shoes, and reusable water bottle, with some extra room for miscellaneous items. The most important thing is that they're comfortable and their items are safe and secure. We recommend tucking in some Kleenex® On-The-Go Pocket Tissue Packs inside their backpacks for whenever those sniffles might strike or hands have to be cleaned.

Lunch Box

A fun, creative lunch box is a great way to pack your child's lunch, but also a great way to express their favourite characters or designs! Look for an insulated bag that can keep food cold or warm for your little one until lunchtime. Bonus points if it's easy to clean! Remember: Pack school-friendly (usually peanut-free or nut-free) lunches and snacks!

Bus Schedule

A printed bus schedule with pick-up and drop-off times will help ensure your kids never miss the bus. Consider laminating the schedule so it doesn't get damaged from wear and tear.

Reading Books

It's always a good idea to have a book or two on hand for your child to practice their reading skills – and helps fill the time if they take the bus!

Pencil Case

A good pencil made from study canvas or metal case can hold all of their writing supplies securely and will last a long time. We recommend buying the pencil case last so you can better judge exactly how much space you'll need.

Face covering/Mask

Depending on your local public health protocol and school board guidelines, pack a clean face covering or mask each day.
Organizational Supplies
1 Small Binder Per Subject or 2 Medium Sized Binders

Depending on what grade your child is in will determine how much schoolwork they'll be storing in their binder, which will ultimately decide the size of the binder they'll need. We recommend a versatile 3-ring binder that can be zipped up for extra security and safely store any loose papers or assignments.

1 Duotang or Pocket Folder Per Subject

A duotang is an excellent option for younger grades as it's lighter and very simple to use. Great for keeping handouts organized or bringing permissions forms and notes between teacher and parents. Consider a variety of colours so your kids can match their binders to each subject or class.

Binder Dividers

Binder dividers are great for helping students manage their different classes in a single binder. Look for ones that are sturdy enough with reinforced eyelets, so you don't have to replace them during the school year.

Sticky Notes

Sticky notes are a great organizational tool to help your kids keep track of key reminders and assignments – and help make homework time more fun and colourful too!

Planner

A simple planner is good way for your kids to track when their assignments are due or other important dates. If your child is in an older grade, they might be ready for a more advanced planner or smart phone.

Combination Lock

If your child is middle school, they might find they've been assigned to their own locker. We recommend a simple combination lock over a rotating one. Make the password something that's easy for them to remember. Consider buying a second if there are additional lockers that they can use in the changerooms.
Writing Supplies
Activity/Homework Notebook

A notebook will be the home for most of your child's work. Look for a sturdy one with ample amount of space, that isn't too heavy. Consider buying one with a fun design or favourite character on the cover to make it feel more personal.

Loose-leaf, Lined Writing Paper

A learning staple! Perfect for taking notes, working on assignments, writing essays, and the list goes on. No matter what grade your child is in they will need some lined paper at some point.

Highlighters in Different Colours

Recommended for the older kids. Great for making notes more organized and highlighting important sections or reminders. Plus, it makes note-taking more fun!

Package of Blue or Black Pens

Recommended for the older kids. Two different colours will help if they want to track special notes and reminders or for peer grading.

Package of Pencils

If there's one thing to say about pencils at the elementary grades it's that students will go through a lot of them. Buy a few packs to store in their pencil case at school and at home.

Erasers

Making mistakes is an important part of learning! But that's what we have erasers for!

Ruler

A ruler is a versatile tool that will come in handy in many classes but especially art and math.

Mini Stapler

Mini staplers are convenient, portable and easier to use with smaller hands.

Pencil Sharpener

Pencil shavings can be quite messy! Opt for a manual pencil sharpener that has a container to catch the shavings for less mess.

Package of Graph Paper

Useful for graphing and plotting for math classes.

Cue Cards

Cue cards are a great educational tool for practicing their times tables, spelling or making presentation notes in the older grades.
Subject Supplies
Math Kit (Including Calculator & Protractor)

Depending on the math classes your child is taking the requirements of what they need might vary. Always check with your school to find exactly what they will require for the coming year to set them up for success!

Gym Clothes

Don't forget to pack a second pair of clothes and running shoes for gym class or after school sports so they can move, run and play with ease!
Bonus
First day teacher gift

Starting the year off right with a small gift for your child's teacher is always an appreciated gesture. We recommend something long-lasting like a succulent or a desk plant, which can brighten up their classroom or home office the whole school year. Include a box of our thick and absorbent Kleenex® Trusted Care® or Ultra Soft™ facial tissues so that both teachers and students can easily comfort noses, or clean hands or surfaces in a snap!
Back-to-school can be a stressful time, but it can also be fun if parents and students are prepared. With Kleenex® On-The-Go Pocket Tissue Packs, your child will always have that comfort of home in their pocket – for sniffles or hands – to help them through their day.
---