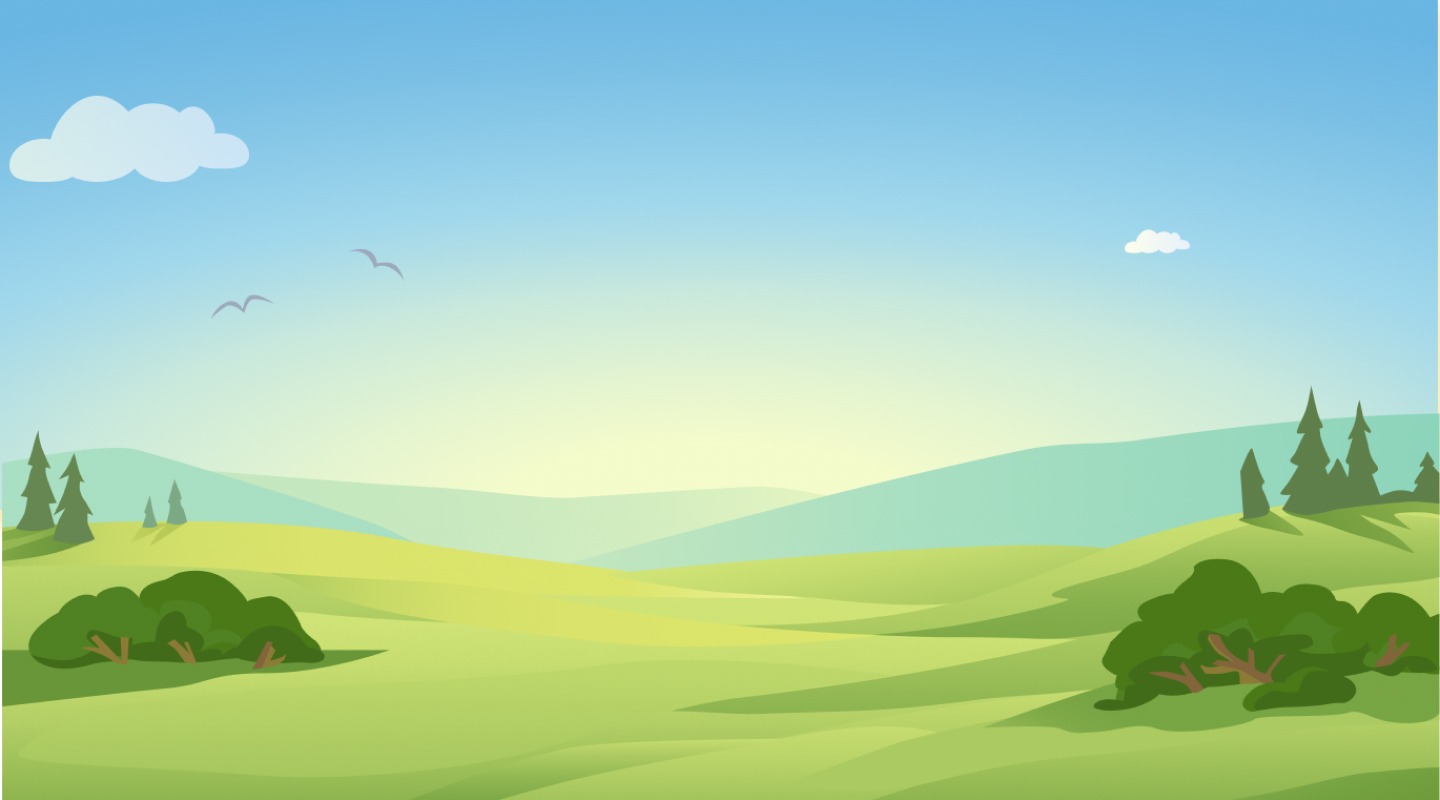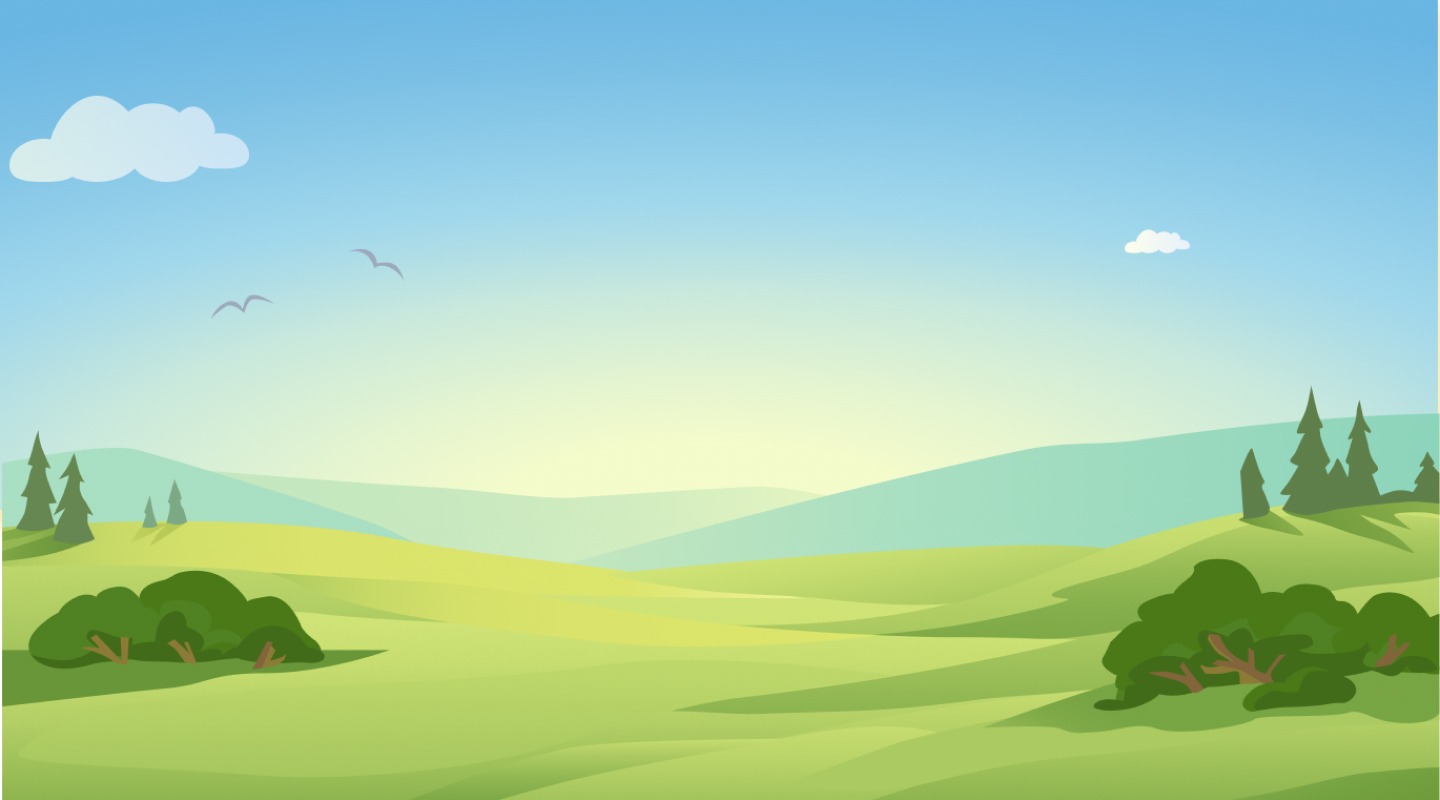 Click here to sign up for alerts
Tap here to sign up for alerts
The pollen forecast for your area
The weather forecast for your area
Discover our hay fever advice and more information about pollen in your area.
Victoria | Sunday June 4
Top Allergens
TREE POLLEN

6 PPM

Oak

GRASS POLLEN

5 PPM

Grass/Poaceae

WEED POLLEN

2 PPM

Ragweed
Victoria | Monday June 5
Top Allergens
TREE POLLEN

21 PPM

Oak

GRASS POLLEN

16 PPM

Grass/Poaceae

WEED POLLEN

8 PPM

Ragweed
Victoria | Tuesday June 6
Top Allergens
TREE POLLEN

8 PPM

Oak

GRASS POLLEN

11 PPM

Grass/Poaceae

WEED POLLEN

4 PPM

Ragweed
Victoria | Wednesday June 7
Top Allergens
TREE POLLEN

2 PPM

Oak

GRASS POLLEN

8 PPM

Grass/Poaceae

WEED POLLEN

4 PPM

Ragweed
Victoria | Thursday June 8
Top Allergens
TREE POLLEN

18 PPM

Oak

GRASS POLLEN

41 PPM

Grass/Poaceae

WEED POLLEN

16 PPM

Ragweed
Pollen Count in Victoria
What is the pollen count in Victoria today?
Check the pollen count today in Victoria with Your Pollen Pal. Enter your postal code above to find the daily levels in your street or at your planned destination to help minimize the impact of hay fever.
Pollen forecast for Victoria
Keep tabs on the Victoria pollen count over the next few days. Use the tracker for an accurate pollen forecast in any area – get the green light for a day out at Craigdarroch Castle, picnic in Beacon Hill Park or walk around Inner Harbour.
Pollen Month-by-Month in Victoria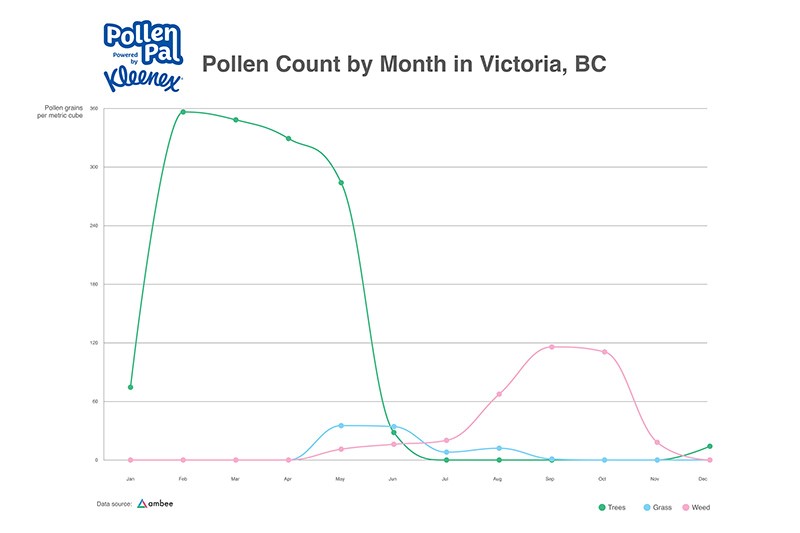 January

With snow covering most of Canada, this month has a low pollen count. Certain types of tree pollen are beginning to wake up in Victoria – specifically cedar, hazel, and alder trees. If you're struggling to distinguish the difference between hay fever and a winter cold, check out our guide to learn the differences.

February

Victoria will begin to feel the effects of tree pollen season as birch, oak, elm, maple and willow tree pollen are added to the mix.

March

In March, ash, poplar, and plane pollen make an appearance. Hay fever in March increases due to elm, willow, and hazel pollen, all of which are reaching their peak production.

April

April showers introduce grass pollen with Kentucky grass being the first representative of the upcoming season. Mulberry and walnut trees come to life again this month.

May

Sycamore trees begin pollenating in May, while grass pollen spreads pollen evenly across Victoria. Grasses prevalent are Kentucky, Bermuda, Johnson, orchard, and Timothy.

June

By June, pines, birch and oaks are the dominate producers of tree pollen in Victoria. Sweet vernal adds its pollen to the other grasses, joining the party.

July

In July, grass pollen is peaking in Victoria, while the majority of tree pollen production is coming to an end for another year.

August

The good news is that tree pollen production has peaked with the exception of a few late bloomers, and for Victoria that means allergy season is coming to a close.

September

Grass pollen is finally on the decline, signaling that hay fever is winding down for the season. Enjoy a deep breath of fresh air without the runny noses or itchy eyes – and hope that the sun stays out to make the most of it!

October

As the temperature falls, so does pollen production. Wet weather can also diminish whatever pollen is left in the air.

November

Enjoy the changing leaf colours without your eyes watering: November's pollen count tends to be low.

December

December brings the first official day of winter in Victoria, which means traditionally low levels of pollen throughout the month.
Top Causes of Pollen in Victoria
Trees produce pollen in Victoria predominantly from February until July. Victoria's top tree allergens are Alder, Pine, Poplar, and Birch trees1. An unusual additional pollinator on Vancouver Island is Hemlock. In April grass adds its pollen to the air, which will last through July. Luckily, weed pollen has little presence here so while hay fever symptoms begin early, they will also hopefully dissipate soonest.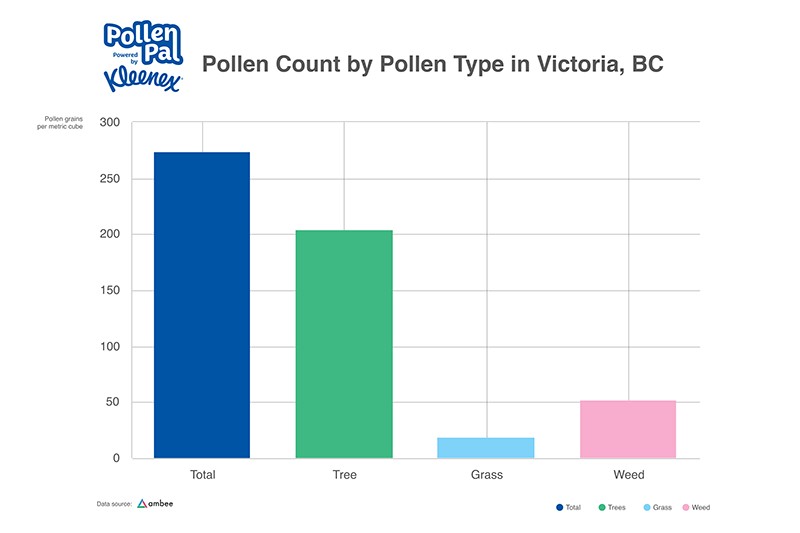 How to Stay Prepared for Victoria's Allergy Seasons
Have a package of Kleenex® Ultra On-the-Go 3-Ply Pocket Facial Tissues by your side to comfort your stuffy nose for whenever seasonal allergies may arise.
Wear sunglasses to prevent pollen from reaching your eyes potentially causing watering or irritation.
Frequently wash your hands while out to remove pollen.
Use a petroleum jelly around your nostrils and upper lip to cut off pollen.2
Have a highly protective comfortable mask ready to filter pollen and allergens in the air.3
Once indoors, change your clothes and shower to wash off and remove pollen.
For those using standard nasal sprays try nasal breathing exercises to naturally assist.4
Pollen Hotspots in Victoria
The lush greenery that surrounds Victoria can unfortunately bring tears to the eyes of those of us with allergies, and not the good kind either. The manicured lawns of the Legislative Assembly of British Columbia, gardens of Craigdarroch Castle, and many trees of Beacon Hill Park can aggravate hay fever symptoms. As beautiful as it is, Abkhazi Garden can also pose a significant pollen risk. Check Your Pollen Pal before making plans!
Allergy Friendly Activities in Victoria
Springtime in Victoria – beginning as early as February but generally between March and May - is when the tree pollen count is at its peak. Pollen from trees and grass are prominent at different times so it's a good idea to use the tracker to plan your trips and avoid being caught out. When going to the city's green spaces is not in the cards, there are still plenty of other things to do.
Indoor Activities
Pollen count too high? Stay inside and explore!
Royal BC Museum
Art Gallery of Greater Victoria
Miniature World
The Bateman Gallery
Craigdarroch Castle
Food and Drink
Experience a traditional British High Tea with a West Coast twist.
Government House Tea Room
Pendray Tea House
Fairmont Empress
White Heather Tea Room
Tea at The Empress
Getting Outdoors
Stick to the sea when hay fever symptoms arise.
Scenic marine route
Ogden Point Terminal and Breakwater
Whale watching
Fisherman's Wharf
Butchart Gardens
Wildplay Elements Park
Sources:
Pollen Levels
The following table shows the risk level for each type of pollen derived by applying NAB guidelines to our data and taking percentile values from the extended season for each type of pollen.

Severity of pollen is dictated by the PPM number, which stands for Pollen Grains Per Cubic Metre. The weather and time of day can also be a big factor when it comes to how the pollen count can affect you. As pollen falls to the ground when the heat dissipates during the evening, this can mean your seasonal allergy symptoms get worse and is why many allergy sufferers have worse symptoms in the night. On rainy days, you'll find your allergy symptoms are easier to manage as rain tends to wash pollen away.
Low
Moderate
High
Critical
Tree Pollen
Weed Pollen
Grass Pollen
Types of Pollen
We've taken a closer look at the types of pollen out there to help you narrow down which ones will have you reaching for the tissues.
Ash

Ash trees come in a variety of species (45 to 60 species worldwide), but the most common in Canada is white ash. Ash trees can be found just about anywhere. Unfortunately for allergy sufferers, ash trees can produce pollen at almost any time of year depending on the species, but peak primarily in the spring. Ash tree allergy symptoms you might experience include runny nose, coughing, congestion and sneezing. To help avoid some of these symptoms, do your best to stay indoors. If these symptoms become difficult to manage on your own, ask your doctor if allergy medication might be best for you.

Peak Season : Spring

Birch

Birch trees grow in every region of Canada, making them particularly hard to avoid. Birch tree pollen peaks during March to June across Western, Eastern and Atlantic Canada. If you're allergic to birch tree pollen, you might experience symptoms like sneezing, nasal congestion, wheezing, runny nose and watery eyes. Sign up for

pollen alerts in your area

, and help manage your allergy symptoms by keeping your windows and doors closed as much as possible.

Peak Season : Late Winter to Spring

Elm

Elm trees come from a family of about 35 species. They pollinate mostly in February (sometimes as late as April). However, pollination can still occur at any time of year. If you're allergic to elm trees, you might endure symptoms like sneezing, nasal congestion, wheezing and itchy throat, nose and eyes. Help prevent allergy symptoms by getting

personalized pollen alerts

and limiting time outdoors when levels are high. You'll want to wash your bedding and clothes more often too!

Peak Season : Winter and Late Summer

Pine

Pine Trees can be found growing throughout Canada. Fortunately, pine pollen allergies are fairly uncommon, but people can be severely allergic to pine nuts. Pine pollen allergy symptoms can include itchy eyes, runny nose, congestion and coughing. Pine nut allergy symptoms can be as severe as other nut allergies, including symptoms such as anaphylaxis, tightness in the chest and difficulty breathing. To try to evade pine pollen allergies, get

personalized alerts about the pollen count in your area

and do your best to stay indoors when pine pollen levels are high.

Peak Season : Spring to Early Summer

Poplar

Poplar trees can be found all over Canada, as it is a popular tree used in landscaping. The most common species of poplar in North America is the Quaking Aspen. Poplar trees typically begin to pollinate in February and continue through May. If you're suffering from poplar tree allergy symptoms, you might experience coughing, congestion, sneezing and itchy throat, nose and eyes. You can help manage these symptoms by avoiding peak pollen levels with

personalized pollen alerts for your area

. Cleaning your house often and doing laundry more frequently can also provide relief, as well.

Peak Season : Spring

Juniper

Juniper trees produce pollen grains about 20 to 30 micrometers in size (making them barely visible to the naked eye), which is small enough to become airborne and impact allergy sufferers from miles and miles away. Symptoms from juniper tree pollen allergies can include congestion, sneezing, sore throat and even dark circles under the eyes! To help relieve some of these symptoms, keep your doors and windows closed, dust and clean more frequently, and wash bedding and clothes more often. When you do step out, wearing a mask might help too.

Peak Season : Winter to Late Spring

Maple

Maple trees can be found just about anywhere in the country and are considered an important symbol of Canada. Maple trees pollinate in March and continue through June. Unfortunately, maple tree pollen is extremely allergenic and can travel for miles, making them difficult to avoid for allergy sufferers. If allergic, you might experience symptoms like runny nose, coughing, congestion, sneezing and watery eyes. For a bit of relief, close your windows and doors. Keep your house clean and shower more frequently to ensure pollen doesn't linger after stepping outside.

Peak Season : Spring

Oak

Oak trees come from a family of 450 species and can be found all over Canada. Oak tree pollen is highly allergenic and has a long allergy season, stretching from February all the way through to July. If you're allergic to oak tree pollen, you might face allergy symptoms like sneezing, nasal congestion, wheezing and itchy throat, nose and eyes. Be sure to sign up for

personalized pollen alerts for your area

so you can avoid or limit exposure during peak pollen levels. Clean often and avoid bringing pollen indoors by removing "outside" clothes like shoes, jackets and hats.

Peak Season : Winter to Spring
Ragweed

Ragweed is a weed that grows throughout Canada, especially in rural areas. A single ragweed plant can create up to 1 billion pollen grains! This usually happens around August as warm weather, summer breezes and humidity help release their pollen grains. If you're allergic to ragweed, you might face allergy symptoms like sneezing, runny nose, post-nasal drip and itchiness in the eyes, nose and throat. To help keep symptoms at bay, track the pollen count in your area, stay indoors during peak levels and plan ahead when you do step out.

Peak Season : Late Summer

Poaceae

Poaceae (pronounced "po-see-ay") commonly known as the grass family of flowering plants. As it's a large family (over 12,000 species), Poaceae pollen is the leading cause of pollen allergy worldwide! If you're allergic to Poaceae, you might experience allergy symptoms like itchy throat, runny nose, sneezing, watering eyes, blocked sinuses and headaches. To help alleviate symptoms, cover up when going out to prevent unnecessary contact and remove all outside clothing when returning indoors, but ultimately, you'll want to try to refrain from going outside if you can avoid it.

Peak Season : Late Spring to Early Summer
Show Allergy Season Who's Boss
Looking for more info on seasonal allergies and symptoms? Check out our latest articles to help you put pollen allergies in their place.
Find Comfort From Allergies with Kleenex®
Seasonal or not, allergy symptoms can take a heavy toll on you. Let Kleenex® facial tissues help relieve some of those symptoms.
View all products
Frequently Asked Questions
The pollen tracker pools data from various sources including but not limited to
Local Pollen traps, where available.
Weather data and other anthropogenic factors.
Vegetation related data around your region.
"With such levels of accuracy, we can predict the pollen count on your street for up to five days ahead."
Madhusudhan Anand, Co-Founder & CTO of Ambee
Pollen is a light airborne dust that acts as a fertilizing agent for various plants. Trees, flowers, grass, and weeds all produce pollen, especially during the spring and summer months.
Similar to how the Air Quality Health Index measures pollution in the air, the pollen count is the measure of how much pollen is in the air on a given day. This information is gathered from reporting stations across the country to provide accurate local pollen readings.
In a word, yes. A study presented at the 249th National Meeting & Exposition of the American Chemical Society (ACS) reported that a pair of air pollutants linked to climate change interact with certain pollens resulting in a change at a chemical level which increases the pollen's potency. This in turn provokes a more powerful immune response from allergy sufferers.3
Pollen counts are highest on dry, windy days and lower after rainfall or at night – and usually peak between 5 a.m. and 10 a.m. and again at dusk, so avoid these times if you plan to be outdoors. If you plan to exercise outside during allergy season, consider wearing a face mask designed to filter out pollens. As soon as you get home, rinse out your nose with saline or ask your doctor about nose sprays to provide relief.

A tree pollen level above 50 is considered high, while one to 10 is considered low. Be sure to check your local pollen count before venturing outside and plan accordingly.